SERVES
6/8
Sarah Darlington's Ploughman's Picnic Pie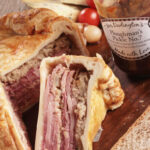 Pre- heat the oven to 190c/170c fan/gas 5.
Butter a 20cm springform tin or deep, loose based tart tin.
Sarah makes this tasty pie and brings it into work, needless to say it doesn't last very long. We all enjoy it served with a crispy salad and a big serving of Sarah Darlington's Baby Onions in Balsamic Vinegar.
Method to Success
Cut a third from the block of pastry and roll it out to make the lid. Use the base of the tin as a template. Roll out the remaining two-thirds piece of pastry and line the buttered tin, leave a good amount hanging over the edge.
Mix the sausagemeat with the apples, onions and thyme and divide into two portions. Line the pie with with two slices of ham and spread with one tablespoon of Sarah Darlington's Dijon mustard. Add a quarter of the sausagemeat to the pie and press down to level it.
Add another layer of ham and mustard, then three tablespoons of Mrs Darlington's Ploughman's Pickle No 7 and level off.
Put the pastry lid on top and brush with the beaten egg. Fold over the excess pastry over and press gently. Trim off any large lumpy sections to try and make the lid look as neat as possible. Brush again with the beaten egg and cut a steam hole in the centre.
Bake for 50 minutes or until a skewer pushed in through the centre hole comes out very hot.
Cool in the tin for approximately 15 minutes, then release the sides from the tin and cool completely (still on the base).
Serve cold, cut into wedges served with a mixed crispy salad (as we do) with Sarah Darlington's Baby Onions in Balsamic Vinegar.
Alternatively this pie can be frozen.